William R. Willard, MD*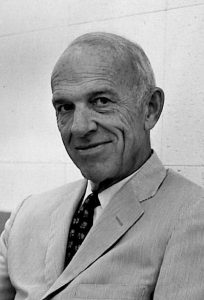 Born in Seattle, Washington, Dr. William Willard received his medical degree from Yale University in 1934. Dr. Willard built a distinguished record of service as founding dean of the College of Medicine at the University of Kentucky, where he established the first ever department of Behavioral Sciences and Community Medicine. In 1966, Dr. Willard chaired the American Medical Association's committee on family practice. Their "Willard Report" is credited with recommending and establishing Family Medicine as the 20th medical specialty in the United States.
In 1972, University of Alabama President David Mathews coaxed Dr. Willard out of his Kentucky retirement to move to Tuscaloosa and develop the University of Alabama College of Community Health Sciences. Today's family medicine in Alabama is largely a product of the school Dr. Willard founded. One in eight family physicians in Alabama has trained at the Family Medicine residency program at CCHS. The program has provided over 360 family practice physicians to the state with 50 percent remaining in Alabama.