William D. Lazenby, MD*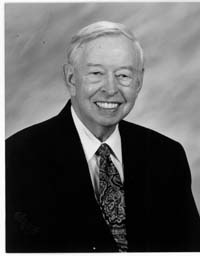 Since 1964, Dr. William Lazenby has recorded a distinguished career as an outstanding surgeon in east Alabama. A man of immense determination and energy, he is especially known for his work in the areas of breast disease and breast cancer. Dr. Lazenby graduated from medical school at Emory University in 1957 and subsequently was a founder of the Medical Arts Center of East Alabama. He has been president of Medical Arts Center since its inception, and the Center now has over seventy-five physicians. Dr. Lazenby has held several state healthcare leadership positions. As member of the Alabama Board of Censors for nine years, he also served as a Vice-Chair.
In 1991 he was elected president of the Alabama State Medical Association. For many years Dr. Lazenby also served on the Board of Directors of Blue Cross/Blue Shield. In his local community, Dr. Lazenby was active in many civic activities including president of the Opelika Chamber of Commerce. In 1985 Dr. William Lazenby was chosen the Outstanding Citizen of the Year by the city of Opelika, and the Rotary Club presented him its highest honor, the Paul Harris Fellow.