William Holcomb "Hoke" Kerns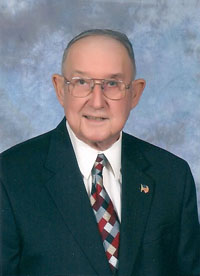 William Holcomb "Hoke" Kerns, Sr. earned a degree in Journalism at the University of Florida in 1951. "Hoke's" healthcare career began at the University of Florida in 1962 and was followed by his career in Alabama with the Birmingham Baptist Hospitals (Baptist Medical Centers). In 1979 "Hoke" was called to public service by then Governor Fob James. For two years, he served as both commissioner of the State of Alabama Medical Service Administration (Medicaid) and the Executive Director of the Alabama Commission on Aging.
"Hoke's" talents for maximizing patient care with hospital efficiencies and simultaneously containing costs were put to good use. "Hoke" went on to serve as President/CEO of the Alabama Hospital Association and later co-founded Caduceus Capital which provided access to less expensive capital financing for not-for-profit hospitals in Alabama. "Hoke" has been honored numerous times for his outstanding leadership in healthcare administration and is recognized by his peers as one of Alabama's great healthcare leaders.