William Campbell Hannon, MD*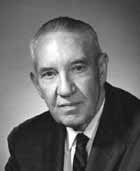 Dr. William Hannon was a pioneer in orthopaedic surgery and physical rehabilitation. A 1916 graduate of the University of Alabama School of Medicine, Dr. Hannon served in World War I as an orthopaedic surgeon. Subsequently he began a 40 year career of caring for crippled children in Alabama, Mississippi, and Florida. He conducted Alabama's first crippled children's clinic, and until his death served as the medical advisor for the State Crippled Children's Service, now known as Children's Rehabilitation Services.
At one time Dr. Hannon provided care to 24 medical clinics in a 17 county area. He actively encouraged the employment of the handicapped and received the President's Committee Award for his outstanding advocacy. Named Mobilian of the Year in 1964, Dr. Hannon helped found the Rotary Rehabilitation Center in Mobile and presented many lectures throughout the South.