Rowell S. Ashford, MD, FACOG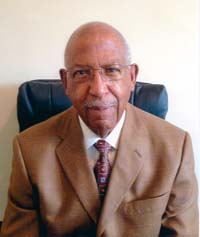 After graduating from Meharry Medical College in 1962, Rowell Ashford completed an internship at Cook County Hospital and residency training at Maricopa County General Hospital in Arizona. Because of the many barriers to black physicians in Alabama in the early 1970's, Dr. Ashford was about to go to California to establish his practice when he learned about Mercy Hospital opening on Birmingham's Southside. He was a truly courageous pioneer who helped to integrate Birmingham's medical community while giving years of dedicated leadership and clinical practice to the poor. Dr. Ashford helped establish the Jefferson Clinic, PC that staffed Cooper Green Hospital until 2013.
Noted as one of the best gynecologic surgeons in Birmingham, Rowell Ashford is responsible for training two generations of OB-Gyn physicians who now practice all over the State. As one of his former residents said, "In Dr. Ashford we found a true gentleman, a real leader and problem solver … He was simply amazing as a surgical instructor. He had the patience of Job on day one, and this trait continued throughout his career as a physician educator." Dr. Rowell Ashford was an extraordinary health care leader in times that called for courage, patience, dedication, and above all a lifelong commitment to the care of the patient.