Robert G. Sherrill, Jr., MD, MA, FACPE*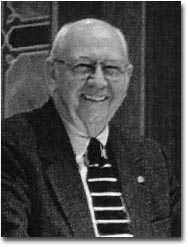 For decades Dr. Robert G. Sherrill has made significant contributions to Alabama's quality of healthcare. He served as Senior Medical Director of Alabama Quality Assurance Foundation, the Peer Review Organization for the State of Alabama, from 1983 until his retirement in August of 2,000. Engaged in private practice for thirty five years, Dr. Sherrill served as Medical Director for hospitals in Tampa and Birmingham, and was the first Professor and Chairman of the Department of Family Practice at UAB, where he was awarded Professor Emeritus in 1977.
Following three years of service in the European Theater during WWII, including the Battle of the Bulge, Dr. Sherrill studied at Emory University at Oxford, received a Masters in Physiology from Vanderbilt, and later received a M.D. from the University of Tennessee. He served as vice president of the Medical Advisory Board for State Prisons and has a forty year affiliation with the Rotary Club. Dr. Sherrill was inducted in to the Alabama Senior Citizens Hall of Fame in June, 2000.