Richard A. Thigpen, LLD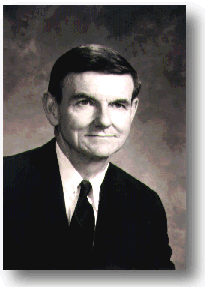 As scholar, higher-education leader, tireless community volunteer, and Alabama healthcare advocate, few leaders have played such a diverse and significant role in the societal development of twentieth century Alabama. Dr. Thigpen is perhaps best known for his service as Acting President, as well as Executive and Academic Vice-President, of the University of Alabama. A holder of five degrees, including an honorary LL.D. from the University of Alabama Board of Trustees and an LL.M. from Yale University, Dr. Thigpen's contributions have been felt far from the Capstone in Tuscaloosa. On this special occasion, the AHHOF recognizes his work as a healthcare advocate and volunteer.
In 1977, Dr. Thigpen was named by the Legislature and Governor, under the aegis of the Alabama Law Institute, to review and undertake a reorganization of the troubled Medicaid health system. He has also served as chair of the Alabama Heart Association, chair of the West Alabama Health Planning Council, and state chair of the American Heart Fund Drive. In 1997, Dr. Thigpen, along with D.O. McClusky, carefully conceived, organized, and launched the Alabama Healthcare Hall of Fame. Among his many awards, Dr. Thigpen was recipient of the Preeminent Alabama Educator Award.