Richard O. Russell, Jr., MD*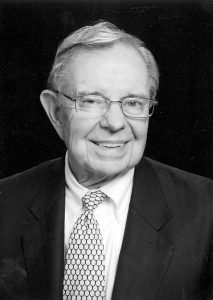 For over 55 years on local, state, and national levels, Dr. Richard Russell was considered a preeminent leader in the field of cardiology. He received rigorous academic training at Vanderbilt University's School of Medicine, then pursued post-doctoral training at Harvard University and the Medical College of Alabama. After service as an Army Captain, he returned in 1962 to the Medical College of Alabama (now UAB). Over the next 55 years he worked as UAB Professor of Medicine and as physician at Cardiovascular Associates of North Alabama.
At UAB Dr. Russell directed the first Myocardial Infarction Research Unit and co-authored the first comprehensive textbook on coronary artery disease. Dr. Russell was a nationally recognized leader of the Alabama and American Colleges of Cardiology. His other great legacy was with the Boy Scouts of America where he received the awards of Silver Beaver and Silver Antelope and was a Distinguished Eagle Scout.