Roy Rachford Kracke, MD*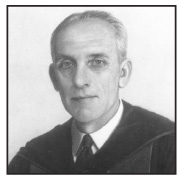 A world-renowned hematologist, Dr. Kracke was selected as the first Dean of the Medical College of Alabama. Dr. Kracke received his MD degree in 1928 from the Rush Medical College in Chicago and then joined the faculty of Emory University. In 1944 he accepted the deanship of the newly established four year Medical College of Alabama in Birmingham. Dr. Kracke is credited with convincing Governor Sparks and the state of Alabama to purchase Jefferson and Hillman Hospitals. The efforts of Dr. Kracke during his six years as dean resulted in expansion of the medical center, the recruitment of top faculty, and the establishment of the School of Dentistry. Many of his visions did not materialize until after his premature death in 1950.
Dr. Kracke received the AMA's Certificate of Honor for contributions in the field of hematology, for foresight in initiating programs for the new Medical College, and for vision in helping shape what would become a world renowned medical center.