Cornelius Nathanial Dorsette, MD*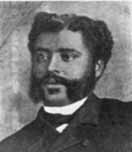 Born a slave in 1852, Cornelius Dorsette lived through the Civil War in rural North Carolina. In 1882 he earned his M.D. from the Medical College of the University of Buffalo. With the encouragement of Booker T. Washington, Dr. Dorsette moved to Montgomery to serve as its first black physician. In 1884, he became the first black physician to pass the newly required state medical licensure exam. It is said that the physicians and leading citizens of Montgomery gave Dr. Dorsette a warm welcome.
He later became a close medical contemporary of Dr. Luther Leonidas Hill and Dr. Jerome Cochran. Dr. Dorsette was named to the Board of Trustees at Tuskegee and remained very supportive of the college throughout his life. Knowing that a hospital was desperately needed for the black citizens of Montgomery, Dr. Dorsette opened Hale Infirmary in 1890. He also helped found the National Medical Association and later served as its president.