Mathew F. McNulty, Jr., ScD*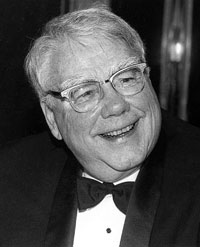 Dr. Mathew F. McNulty was a nationally recognized pioneer in hospital administration. He served with distinction in the Army Air Force and became the first non-physician director of an Army Air Force hospital. Dr. McNulty was appointed administrator for the University of Alabama Jefferson-Hillman Hospital in 1954, and in 1963 became general director of the University of Alabama Hospitals and Clinics. In 1966 he became founding dean of the new UAB School of Health Administration. While on part-time leave from UAB, Dr. McNulty became the founding director of the AAMC Council of Teaching Hospitals.
In 1979 he was elected president of the NationalLeague of Nursing and was the only non-nurse to have served in that position. Described as a "Renaissance leader", Dr. McNulty received the Distinguished Service Award from the American Hospital Association and the Distinguished Health Science Executive Award from the American College of Health Care Executives.