Mary Starke Harper, PhD, RN, FAAN*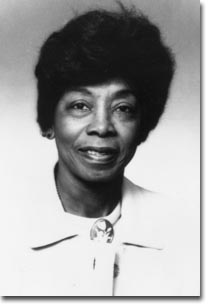 Born and reared in South Gerard, Alabama, Dr. Mary Starke Harper began her career as a student nurse at the Tuskegee Institute. After receiving two degrees from the University of Minnesota, she became director of Nursing at the Tuskegee VA Hospital. During her long career with the Federal Government, Dr. Harper worked in hospitals and taught in universities around the country. Along the way, she received a Ph.D. from St. Louis University and became known as the nation's leading authority on mental health and long term care, serving as advisor to four U.S. Presidents. Dr. Harper's tireless efforts with legislation, curriculum development, and federal funding helped established minimum requirements for quality, long term health care.
In 2001, the Geriatric Psychiatry Center in Tuscaloosa was named in her honor. Dr. Mary Starke Harper has dedicated her life to improving this country's healthcare delivery system. She has represented the State of Alabama with grace, and consistently credits her success to the values she learned in rural Alabama.