Leon Victor McVay, Jr., MD*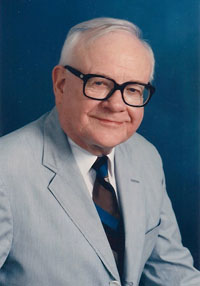 Dr. McVay's received his MD degree at the University of Tennessee and following his internship he served as Associate Professor of Medicine at the University of Tennessee. In 1953 he decided to join his father's practice in Mobile. To complete a military obligation, he enlisted with the U.S. Air Force and was assigned to be Chief of Medicine at Maxwell Air Force Base in Montgomery. For the 15 months he served in the Air Force, he would return to Mobile on weekends to see his private patients. After being released the US Air Force in 1955, Dr.McVay returned to Mobile where he practiced until his retirement in 1995.
Dr. McVay had a strong interest in infectious disease and conducted research with various drug companie. Throughout his career, Dr. McVay made house calls and encouraged his patients to call him at home any time day or night. Dr. McVay personified the philosophy that the practice of medicine was more than just a way to earn a living; it was an opportunity to serve humanity.