Juanzetta Flowers, DSN, RN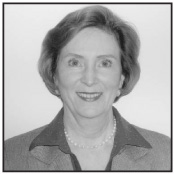 Known as a pioneer in the early Nurse Practitioner movement, Dr. Juanzetta Flowers has devoted her career to improving healthcare in Alabama. In 1971, while serving as head nurse in OB/Gyn, Dr. Flowers opened UAB's first private outpatient clinic. At the time Alabama lead the nation in cervical cancer deaths. However, with pap smears becoming more widely available, Alabama's death rate fell to 49th. When serving as president of the Alabama Nurse's Association, Dr. Flowers crafted a legislative strategy that granted prescriptive authority to nurse practitioners when collaborating with physicians.
In the late 1980's Dr. Flowers planned and implemented the Health Policy program for doctoral students at the University of Alabama School of Nursing. Because of her leadership in the nurse practitioner movement, her advocacy for legislation to advance nursing, and for her efforts in mobilizing Alabama's influential to assist the School of Nursing, Dr. Flowers will be long remembered as one of Alabama's finest.