Jean A. Kelley, EdD, RN*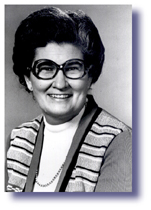 Nursing education has never had a more successful advocate, or the University of Alabama School of Nursing a more recognized alumna than Dr. Jean Kelley. Starting out as a nursing student in 1948, in effect she never went off duty for 35 years. After earning her M.A. at New York University, she returned to the University for her Ed.D, and spent most of her career with the school. She chaired the administration- supervision of the Nursing Practice Department and spent her last 19 years as administrator of the graduate programs in nursing.
Her imprint on Alabama is lasting, for in 1975 she implemented the nation's 13th doctoral in nursing program and the first in the Southeast. The program has graduated several hundred nurses who are leaders in the discipline and who attribute their success largely to Dr. Kelley's guidance and mentoring. She also had direct involvement in founding masters in nursing programs at the University of South Alabama, University of Alabama at Huntsville and Troy State. In 1989, UAB created a lectureship honoring her vision and leadership.