James T. Montgomery, MD*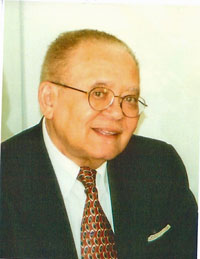 Dr. Montgomery's legacy is lifetime achievements in the delivery of healthcare, participation in civic affairs, and tireless community service. He practiced internal medicine in Birmingham for 30 years beginning in 1957 and provided leadership at Holy Family Hospital, a 30-bed hospital founded in 1952 for African Americans. Dr. Montgomery, a native of Atmore, came to Birmingham with his parents and subsequently overcame obstacles to obtain his education which included Birmingham public schools, undergraduate studies at Morehouse College, MD degree from Howard University, residency at Homer G. Phillips Hospital in St. Louis, and fellowship training in cardiology in Boston.
He was involved with many community organizations through the years, particularly with voter registration during the civil rights struggle. He was a member of the American College of Physicians and became the first African American member of the Jefferson County Medical Society (1962) and faculty member of the Medical College of Alabama (1964) and received staff privileges at University Hospital. Dr. Montgomery aided the establishment of an improved relationship between the Medical College and the African American citizens of Alabama and helped identify students. His abilities and strong character led to many professional appointments.