James Monroe Mason II, MD*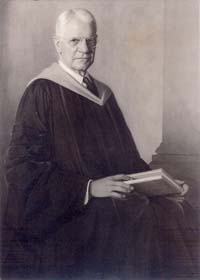 Dr. James Monroe Mason II, a native of Marion, AL, was an early staff member at St. Vincent's, Children's, and Hillman Hospitals in Birmingham and became widely known as a general and vascular surgeon, clinical teacher, local and national leader in organized medicine, and prolific writer. His mentor in vascular surgery was the world renowned Dr. Rudolph Matas in New Orleans. He received his MD degree at Tulane University in 1899 after having attended Auburn University, Southern University, and the Medical College of Alabama in Mobile. Visits to foremost European clinics on three occasions advanced his surgical expertise. His authoritative publications addressed a variety of surgical problems.
He was Chief of Surgery at Des Moines, Iowa, General Hospital during WWI and was on a joint committee of the American Medical Association, American College of Surgeons, and American College of Physicians to coordinate medical services during WW lI. He served as president of a number of prestigious professional organizations. As President of the Medical Association of the State of Alabama in 1942 he encouraged his colleagues to influence establishment of a 4-year medical school in Alabama and in 1945 was named its first Chairman of Surgery. The visionary Dr. Mason excelled as a surgeon and citizen while Birmingham was dealing with the demands of a rapidly developing industrial center and extending through the WWII period and beyond.