Gerhard A. W. Boehm, MD, FACS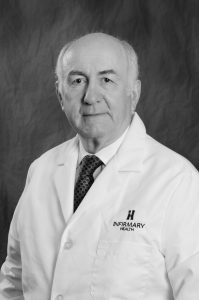 Dr. Gerhard Boehm's distinguished career spans more than 47 years as a general surgeon, including the performance of more than 7,000 breast surgeries primarily for cancer patients. His practice continues today. Through his vision and selflessness, he was instrumental in the development of a multidisciplinary Tumor Conference at Mobile Infirmary to advance cancer collaboration and treatment options. His work and leadership led to Mobile Infirmary's achieving accreditation by the National Accreditation Program for Breast Centers.
In addition to his private practice, Dr. Boehm served as an adjunct professor of surgery at the University of South Alabama School of Medicine. Active in many professional areas, he served as president of the Alabama Medical Alumni Association, and in 2017 he received its Distinguished Alumnus Award. Dr. Boehm also served as Alabama chapter president of the American College of Surgeons.