Florence A. Hixson, EdD*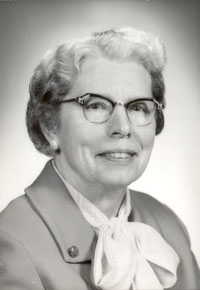 Born in 1899, Dr. Hixson received her diploma in nursing from the University Of Pennsylvania School Of Nursing, her Bachelor of Science in Nursing from Columbia University and her Master of Science in Education from the University of Pennsylvania. She completed her doctorate in education in 1952. Dr. Hixson was a leader in nursing education as evidenced by her foresight and risk-taking initiative when in 1950 she came to Alabama and became the first dean (and only faculty member) of a newly created nursing program at the University of Alabama in Tuscaloosa.
By 1955 the diploma program and baccalaureate programs were well established and a masters program begun. Dr. Hixson led the transition of the nursing programs from Tuscaloosa to the University of Alabama at Birmingham while simultaneously expanding the curriculum at both the undergraduate and graduate levels. Dr. Hixson was small of statue and possessed a quiet presence and her legacy has resonated in her ability to influence countless nursing graduates. Dr. Hixson passed away in 1989.