Emmett R. Johnson, FACHE*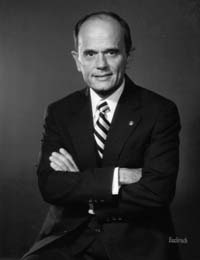 Mr. Emmett Johnson's strong leadership and his understanding of Alabama's healthcare needs helped lay a firm foundation for the growth of Alabama's Baptist Health System. As President and CEO of the Baptist Medical Centers from 1974 until 1994, Mr. Johnson combined a deep commitment to healthcare as a ministry to the sick, with an impressive record of market and financial performance. Mr. Johnson oversaw the expansion of programs and facilities of Birmingham's Princeton and Montclair Baptist Medical Centers. His commitment to making quality healthcare available to Alabama's rural areas helped guide the transformation of the Baptist Medical Centers into a multi-hospital Baptist Health System, which later became the state's largest multi-hospital healthcare care system.
Emmett Johnson also made significant contributions to healthcare on a national level, serving as president of the Baptist Hospital Association and as Chairman of the Board of the American Protestant Hospital Association. He was also known as an exceptional leader in his church as a teacher, deacon, budget chairman, and missionary. In 1994, the Alabama Hospital Association presented Mr. Johnson its Gold Medal of Excellence.