J. Ellis Sparks, MD*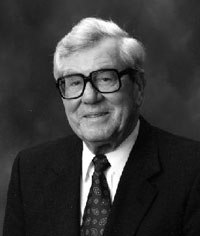 For close to a half century, Dr. Ellis Sparks served the UAH School of Primary Medical Care and the UAB School of Medicine, Huntsville Regional Medical Campus, as a distinguished internal medicine physician and teacher. From successive student classes, Dr. Sparks received fifteen awards for best clinical teacher, and an additional fifteen awards for heading the outstanding Internal Medicine teaching program. Dr. Sparks served as Professor and Chief of Internal Medicine at UAH School of Primary Medicine and later as Dean of what became known as the Huntsville Campus of the University of Alabama School of Medicine.
In March, 1999, the medical library at the UAB Huntsville campus was named the J. Ellis Sparks Medical Library in his honor. Loved by his patients and respected by his fellow physicians, Dr. Sparks is credited for attracting many talented students and residents to the city of Huntsville.