William Dempsey Partlow, MD*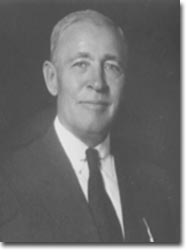 One of nine children reared in a northern Alabama farming family, William Dempsey Partlow was a studious boy with his vision already formed on a career in medicine. Dr. Partlow entered the Medical College of Alabama in Mobile, and graduated valedictorian of his class. In 1901 he became associated with Bryce Hospital, and in 1919 was elected superintendent of the Alabama State Hospitals.
In 1923 the Alabama School for Mental Deficients was established in Tuscaloosa. It was later named for Dr. Partlow in recognition of his strong leadership and mental health advocacy. Through Dr. Partlow's work as superintendent of the state system, his administration became known throughout the U.S. for outstanding and humane patient care. Through good management and economy, Dr. Partlow continually expanded and modernized the facilities and equipment of the state hospitals. In 1941 he was honored by a great public tribute commemorating forty years of service to mental health in Alabama. He was described as having rare executive ability, iron will, rugged determination, intellectual and moral courage, and common sense.