Clarence Joseph (Joe) Vance*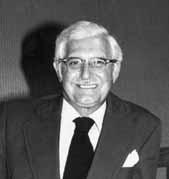 Joe Vance is a retired senior vice-president of Blue Cross Blue Shield of Alabama. A journalism graduate of Birmingham Southern College, and a 1938 pharmacy graduate of Howard College (Samford University), Mr. Vance served as a U.S. Naval Reserve Fleet Marines Officer in the WWII Guadalcanal Campaign. In 1946 he joined South Highlands Infirmary as a pharmacist and later advanced to assistant superintendent and administrator of the hospital. During this time he also served Samford University as an adjunct professor of pharmacy.
Mr. Vance later moved to Blue Cross Blue Shield as vice-president, advancing to senior vice- president. He is credited with the development of the innovative cost plus reimbursement program at the time when government healthcare (Medicare/Medicaid) was incorporated into the Alabama system. A talented writer, Joe Vance penned the History of Blue Cross Blue Shield, and for three decades was a contributing editor of Southern Hospital Magazine.