Charles A. (Mickey) LeMaistre, MD*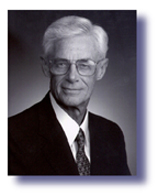 A graduate of the University of Alabama and the Medical College of Alabama, Dr. Mickey LeMaistre credits "friends and family" for the firm foundation upon which he developed a rare combination of abilities as a physician, educator, administrator, and proponent of public health education. After serving as Chancellor of the University of Texas System, Dr. LeMaistre served eighteen years as President of The University of Texas M.D. Anderson Cancer Center; Dr. LeMaistre helped to double the center's physical size and secure an international reputation for innovative patient care, research, and education. He is credited for bringing a strong research focus to the Center and for establishing a significant program in cancer prevention.
The M.D. Anderson Cancer Center's new outpatient building was named in his honor in 1997. As volunteer and past president of the American Cancer Society, Dr. LeMaistre campaigned tirelessly for over three decades on the hazards of smoking. In 1998, the American Cancer Society presented Dr. LeMaistre its highest award for public service. Among his many honors are national awards from the American Medical Association, American Lung Association, and a Humanitarian Award from the National Conference of Christians & Jews.