Charles W. Breaux, Sr., MD*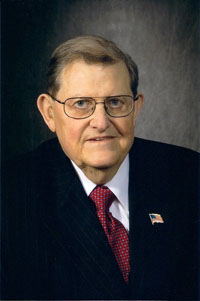 Dr. Breaux dedicated himself to serving the health needs of the poor and underserved population in Jefferson County for more than 25 years. His strong commitment to healthcare and dedication to patient management is widely recognized. He came to Birmingham in 1972 when the indigent hospital was new and health programs were being initiated. As Chief of Surgery at Cooper Green Hospital and first president of the Jefferson Clinic, he became involved in recruitment of staff, space planning, acquisition of supplies and equipment for Mercy Hospital, later names Cooper Green. Dr. Breaux, a native of Gueydan, Louisiana, trained as a chemical engineer before overcoming a health problem and beginning medical school. He received his MS at Louisiana State University and then completed and internship / residency in surgery at the U.S. Public Health Hospital in New Orleans.
His abilities and expertise resulted in appointment as Clinical Professor at the University of Alabama School of Medicine, staff membership in other local hospitals, recognition by his peers for his selfless and quality service to his patients, and receipt of numerous awards for his contributions. He has endowed educational support for medical students and residents in cardiothoracic surgery and surgery for indigent-care patients.