Major Charles D. Beard, Jr.*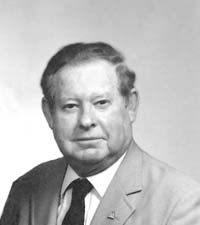 Major Beard was a decorated United States Air Force pilot whose plane was shot down over Belgium during World War II. After twenty-five years of military service he returned to Birmingham. While seeking healthcare for his elderly relatives, he learned firsthand of the lack of home health services in Alabama. With no healthcare experience, but with an entrepreneurial spirit and a desire to help the elderly and disabled, he set about to solve the problem. In 1970, Major Beard founded his own healthcare company in Jefferson and Shelby Counties. Alabama Home Health and Hospice has grown to nineteen branches throughout the state and is known for delivering compassionate care with the most up-to-date methods.
In 1990 Major Beard also formed the Hospice and Home Health Fund, a not-for-profit agency that provides assistance to patients without financial means who might need healthcare services other than home care. Major Beard died in 2001 and was posthumously inducted into the Alabama Nursing Hall of Fame in 2005 in recognition of his promotion of home health nursing.