Anthony J. Brooklere, RPh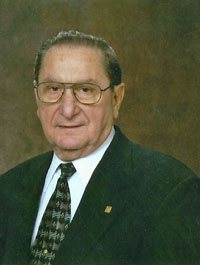 Anthony Brooklere's legacy is lifetime achievements in pharmacy practice, civic affairs, community service, his church and the establishment of a national group for pharmacy purchasing that has allowed a vast number of national independent pharmacists to remain viable during a time of independent pharmacy struggle. A loved family man, Anthony graduated in pharmacy from Auburn University in 1958 after being inducted in Rho Chi National Pharmacy Honor Society. After graduation, Anthony established Adamsville Pharmacy, Brooklere Pharmacy and College Hills Pharmacy. He has received numerous awards in pharmacy including the Distinguished Alumni Award, and Bowl of Hygeia the highest award bestowed by the Alabama Pharmacy Association. He has been an active member of the Pharmacy Profession and has served as president of the Alabama Pharmacy Association and President of the Alabama State Board of Pharmacy.
Anthony was one of the initial founders of the American Pharmacy Cooperative formed in 1983 with over 1500 members in 23 states. This cooperative has enabled independent pharmacists to remain viable during a time of national closings. Anthony has also been active in his community having been elected to the Adamsville City Council, served in leadership positions in his church and the Forestdale Lions Club board of directors. His pharmacies have been recognized for numerous innovations in pharmacy practice which include compounding, patient consultations, and enhanced pharmacy operations.