William Crawford Gorgas, MD*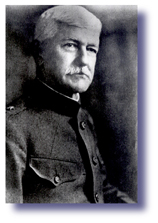 Born in Mobile in 1854, William Gorgas achieved unique prominence in the early years of the 20th century. He had obtained his Doctorate of Medicine from Bellevue Hospital Medical College in New York, and then joined the Army. Rising to the rank of Major General, he became Surgeon General of the Army and in 1904 was named its chief sanitation officer. He is remembered for two successes in particular. In the first, he directed a mosquito control program that eradicated yellow fever and brought malaria under control throughout the Caribbean area and thus enabled the United States to complete construction of the Panama Canal.
Secondly, he mobilized the nation's medical personnel for World War I, organized the largest and most efficient medical corps in our history, and arranged for every armed forces inductee to receive a complete medical examination. Dr. Gorgas was president of the American Medical Association in 1909-1910. A historic house bearing his family's name is a popular point of visitation on the University of Alabama campus.