Our Purpose
Over the years, healthcare has without a doubt been one of Alabama's brightest stars. Alabama has a great healthcare success story to tell its young people, the nation, and the world. This story encompasses not only world class research and teaching institutions, but also a colorful history of extraordinary men and women.
The Alabama Healthcare Hall of Fame was founded in 1997 with the purpose of recognizing those persons, living or deceased, who have made outstanding contributions to, or rendered exemplary service for healthcare in the State of Alabama. Through the organization we hope to pass on these examples of outstanding accomplishment to our young people. It is operated under the authority of the Alabama Healthcare Hall of Fame and Museum, a non-profit 501-C-3 Alabama corporation.
The first years of the Alabama Healthcare Hall of Fame have been very successful. The organization has received solid support from professional organizations, the practicing community, and medical schools throughout the state. Hall of Fame Ceremonies are held every other year at the RSA Activity Center in Montgomery.
For several years the advisory committee searched for an appropriate location to display the Hall of Fame honorees. With the help of University of Alabama Hospital Administration, an ideal spot was located in the atrium of the West Wing of UAB Hospital. This exceptional space offers attractive architectural features and extensive wall space. Thousands of patients, hospital staff, and family members walk through the area each day. For more information including a picture of the Wall of Fame, contact the Hall of Fame.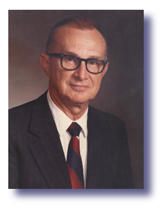 D.O. McClusky distinguished himself in the field of hospital administration. In 1976 he received the American Hospital Association's top honor, the Distinguished Service Award.
Mr. McClusky and fellow honoree, Dr. Richard A. Thigpen, were instrumental in the founding of the Alabama Healthcare Hall of Fame in 1997.