Kenneth N. Barker, PhD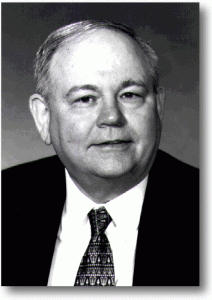 Dr. Kenneth N. Barker's distinguished career in pharmacy includes a series of accomplishments and innovations that have had a major impact on the practice of pharmacy and the quality of American healthcare. Dr. Barker is a professor of Social and Administrative Sciences at the Auburn School of Pharmacy. In the late 1950's, Dr. Barker introduced the "unit dose" medication distribution system now used in ninety percent of U.S. hospitals. He also developed the direct observation method for detecting medication errors, a method later adopted as a standard by the U.S. Health Care Financing Administration. Dr. Barker served as project director and chairman of a national coalition that developed national guidelines for IV therapy, resulting in improved safety through the reduction of infection and other complications.
More recently his work has focused on improving pharmacy facility design and practice automation. Dr. Barker earned his Ph.D. in pharmacy administration from the University of Mississippi. Among his honors are Outstanding Graduate Professor, the H.A.K. Whitney Lecture Award, and the American Pharmaceutical Association's Remington Honor Medal.