Joseph O. Dean, Jr., PhD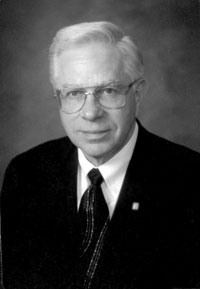 Dr. Joseph Dean, pharmacist and pharmacy educator, has been recognized nationally and internationally as a leading force in pharmacy education. A pharmacy graduate of Samford University with a doctor of philosophy from the University of Alabama, Dean was awarded a Doctor of Pharmacy (honorary) from Meijo University, Nagoya, Japan. He was named Dean and Professor Emeritus at Samford following three decades of service, including 15 years as Dean of the McWhorter School of Pharmacy.
Active in local, state, national and international pharmacy affairs, Dean's honors include: recipient of the Bowl of Hygeia for outstanding community service by a pharmacist in Alabama; inaugural recipient of the Outstanding Dean Award by the Academy of Student Pharmacists of APhA; Pellegrino Medal from the Health Care Ethics and Law Institute (Samford); and the American College of Apothecaries' Deans Recognition Medal. Dr. Dean is a past-chair of the Council of Deans and served three years on the Board of Directors of the American Association of Colleges of Pharmacy. Meijo University awarded Dean an honorary doctorate for his contributions to the development of pharmacy education in Japan. Dean was a 20 year trustee of the Alabama Pharmacy Association.