John H. Mosteller, DDS*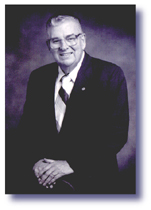 Dr. Mosteller not only had a nationally recognized restorative dentistry practice in Mobile for 35 years, he was also a popular lecturer and author in his field. He was an essayist at over 800 dental meetings in 44 states and a dozen foreign countries. He has lectured at 54 American universities and is Clinical Professor, retired, at the UAB School of Dentistry. Author of more than 250 papers in the dental literature, he has written two books and contributed to eight others. Dean of American dental editors, he was Editor of the JOURNAL of the Alabama Dental Association for 42 years and was honored by the American Association of Dental Editors.
With the equivalent rank of Brigadier General, he was National Consultant for Restorative Dentistry to the Surgeon General of the U.S. Army for 12 years. A member of the American Dental Association House of Delegates for 10 years, he was First Vice President of the ADA in 1977-78, the highest office in the ADA ever held by an Alabamian. Dr. Mosteller is a graduate of Loyola University School of Dentistry in New Orleans.