John D.S. Davis, MD*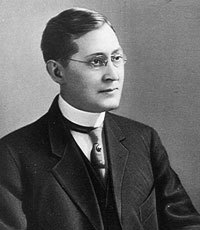 The Davis brothers were reared by their mother in Trussville, Alabama, after their father, Dr. Elias Davis, was killed in the Civil War. Together, the brothers practiced surgery in Birmingham at the end of the 19th century and made significant contributions to the health and well-being of Alabama citizens.
The pioneer physicians engaged in gastrointestinal research; initiated the Alabama Medical and Surgical Journal; and founded the Alabama Surgical and Gynecological Association, the forerunner of the Southern Surgical Association. The Davis brothers also co-founded with others the Birmingham Medical College. Dr. William Mayo was quoted as saying that the experimental and clinical investigations of Dr. William E. B. Davis on the common bile duct were of international import. Dr. John D. S. Davis, as president of the Medical Association of the State of Alabama in 1928, passionately appealed for the establishment of a four-year medical school in Alabama.