Clarence Langley Salter, MD*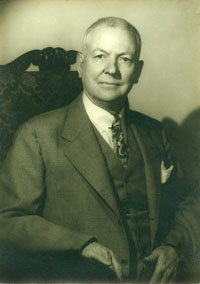 Dr. Clarence Salter, a native of Evergreen, AL graduated from the Medical College of Alabama in Mobile in 1911, interned at Mobile City Hospital, and practiced in Talladega, AL. After WWI military service, he became well known for contributions to professional and civic activities. He was intensely interested in continuing medical education and traveled to Mayo Clinic in Minnesota to learn changes in medical care. He sought Mayo clinic consultations and funded trips for patients to go there. In 1943 Governor Chauncey Sparks appointed him to the Alabama State Medical Building Commission and he had a major role in the decision to move the medical school from Tuscaloosa to Birmingham to re-establish it as a 4-year MD degree granting institution. He was initiated in the American College of surgeons in 1938 and was active in the AMA, Southern Medical Association, Medical Association of the State of Alabama (MASA), and the Talladega County Medical Society.
He had membership in the American Legion and Kiwanis Club. He was a bank director, an incorporator of the Citizens Hospital Association which built Citizens Hospital. He upgraded the hospital at the Alabama School for the Deaf and Blind. Among his awards were "Community Service Award" from MASA, "Service to Mankind Award" from the UA School of Medicine and the gift of his portrait by Talladega to the UA Medical Center.