Alston Callahan, MD*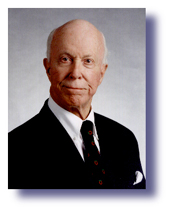 Born in Mississippi, Alston Callahan received his medical education at Tulane University. During World War II he was Chief of the 300-bed Eye Section at Northington Army Hospital in Tuscaloosa. Afterwards, Dr. Callahan opened his practice in Birmingham in an old converted home, as he dreamed of an eye hospital where more ophthalmologists could serve more patients than one could alone. By enlisting wealthy patients and friends whom he declined to charge they bought the site on which the Eye Foundation Hospital was built, and began to serve patients in 1964. Continuing its expansion with added indigent services, in 1971 they assisted the Residency Program of UAB's Department of Ophthalmology. In 1989, the Trustees completed the Research and Professional Office Building.
In 1990, he discontinued his practice and as a volunteer Director of Development, raised more than 10 million dollars for eye research and indigent care.
Now that UAB has acquired the hospital, he and his associates are accelerating retinal research with a new organization, the International Retinal Research Foundation.