William H. Mandy, Jr.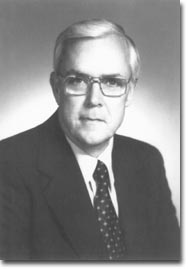 Through his management style, leadership ideals and vision for the future, Mr. William Mandy set Blue Cross Blue Shield of Alabama on a journey focused on quality, cost effectiveness, and compassionate patient care. Under Mr Mandy's leadership, the development of the Preferred Care program revolutionized the payment and delivery of healthcare service in Alabama. While at Blue Cross he also defined and established corporate values so vital to the company's positive growth and caring culture. He served as a leader of many worthwhile public service activities including the Alabama Child Caring Foundation, Adopt A School partnerships, and the Salvation Army's CHAMP program.
Retired for more than thirteen years, Mr. Mandy is still an admired and beloved figure to Blue Cross associates. A great deal of this admiration is due to their knowledge that he quietly, and with no public recognition, shaped the course of healthcare in Alabama for the better.