Walter B. Frommeyer, Jr., MD*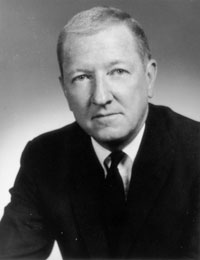 Dr. Walter Frommeyer 's brilliant career brought much honor to the University of Alabama Medical Center and the state of Alabama. Highly respected for his professional accomplishments, he was known for his intellect, clinical contributions, teaching abilities, and character. Dr. Frommeyer was an outstanding hematologist and medical educator and served in a number of roles at the University of Alabama Medical Center, including Chairman of the Department of Medicine and Associate Dean of the School of Medicine.
He was a teacher par excellence; and his sessions with students were memorable occasions for their content, organization, and delivery. A native of Cincinnati, Ohio, he faithfully served in the U.S. Army and was awarded a Bronze Star and the Purple Heart. Dr. Frommeyer served as president of the American Heart Association and of the American College of Physicians.