Walker Reynolds, Jr., MD*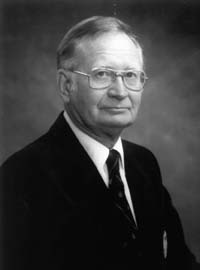 Dr. Walker Reynolds received his medical degree from the University of Virginia and later interned under Dr. Lloyd Noland at Lloyd Noland Hospital in Birmingham. Dr. Reynolds' medical accomplishments began in Birmingham in 1949 while a surgical resident at the Medical College of Alabama. For the next fifty-one years he brought honor and recognition to the field of healthcare to Alabama. He became the first Board Certified Surgeon to graduate from the Champ-Lyons Surgical Program and subsequently was a general surgeon at Regional Medical Center in Anniston for more than thirty years.
Dr. Reynolds was known throughout his profession for his 57 medical inventions, eight of which were patented. Among his many inventions are cervical tongs used during the Vietnam War to treat fractures of the vertebrae, a collapsible stethoscope, and a self-compression bone plate. Dr. Reynolds was also known for inventing 42 operating procedures, many in the area he called "metal surgery". He is the only surgeon who claimed to be a pioneer in staple surgery, clip surgery, and laparoscopic surgery. Dr. Reynolds is credited with having performed the first total appendectomy using a stapling device.