Samuel Eichold II, MD*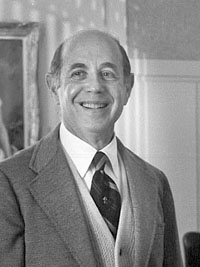 Dr. Samuel Eichold II, a native of Mobile Alabama, received his M.D. degree in 1940, served an internship at Touro Infirmary, and returned to City Hospital in Mobile for an internal medicine residency. Dr. Eichold volunteered for active duty in the U.S. Navy in 1941. In 1946, Dr. Eichold returned to Mobile to establish his Internal Medicine practice. Dr. Eichold had a special interest in diabetes and developed a national reputation for his expertise. Together with his wife Charlotte, they established Camp Seale Harris for children with diabetes, providing diabetes education in a recreational environment. In the 1970's Dr. Eichold addressed the minimal quality of healthcare in Mobile's correctional facilities and developed new concepts for the care and treatment of inmates. His program was accrediated by the National Commission of Healthcare and became a model for correctional facilities throughout the state.
Dr. Eichold had a keen sense for medical history and while still in private practice founded what has now become the Mobile Medical Museum, housing the largest collection of medical artifacts, archival papers and books in the Southeast. Dr. Eichold has been recognized with numerous honors and awards for his medical contributions as well as his many civic and community endeavors.