Ronald E. Henderson, MD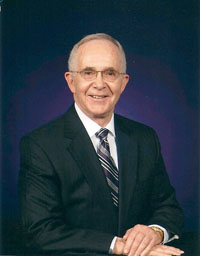 Dr. Ronald Henderson earned his medical degree from the University of Alabama in 1962. He began his career in Gordo, Al., where his "front line" experience would forever influence his efforts to improve the quality of healthcare delivery. Dr. Henderson completed his residency in OB/Gyn and established his renowned practice at St. Vincent's Hospital where he provided outstanding care for 26 years using his four "C" philosophy of patient care: Competent, Compassionate, Convenient, and Cost effective. As a member of the Alabama State Committee of Public Health, Dr. Henderson was instrumental in reorganizing the Alabama Department of Public Health into districts and championed the Alabama Nurse Midwife Act.
He also served on the State Board of Medical Examiners, Jefferson County Medical Society, Medical Association of the State of Alabama, and the AMA. This doctor, teacher, entrepreneur and author continues to make a significant contribution by sharing his knowledge and experience with students as a Clinical Professor at the University of Alabama at Birmingham School of Medicine.