Robert Andrew Hingson, MD*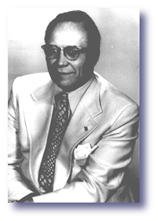 Dr. Robert Hingson was a humanitarian, inventor, pioneer of epidural anesthesia for childbirth, inventor of jet injection for mass immunization, professor at the University of Pittsburgh Medical Center, and founder of The Brother's Brother Foundation in Pittsburgh. Born in Anniston, Alabama, Dr. Hingson received a BA from University of Alabama and a MD from Emory University School of Medicine. Dr. Hingson authored or co-authored over 150 scientific publications. He led the Brother's Brother Foundation from 1958-1982. During its 41 year history, the Foundation has distributed worldwide over $560 million in medical supplies, textbooks, seeds, food and assistance to more than 40 million people.
His monumental innovations include the continuous caudal anesthesia, including perfection of lumbar epidural anesthesia to prevent pain in childbirth; the "jet" injector which enabled more efficient mass inoculation without need of needles and syringes; and a manual anesthesia apparatus that allows the delivery of a portable, brief, general anesthetic.