S. Richardson Hill, Jr., MD*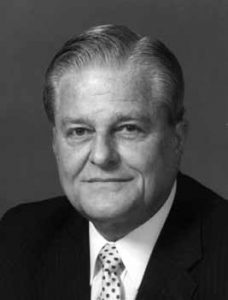 Dr. S. Richardson Hill's contributions to healthcare have been most significant to the welfare of the people of Alabama. Dr. Hill has held some of the most prestigious healthcare positions at the University of Alabama at Birmingham including Dean of the Medical College of Alabama, Vice-President for Health Affairs, and University President. Dr. Hill was recruited to Birmingham by Dr. Tinsley Harrison to direct the development of the Endocrine Division in the Department of Medicine.
In 1962, Dr. Hill was named Dean at a very crucial time in the history of the medical school. Over the next few years the Board of Trustees at the University of Alabama System gave him increasingly responsible positions as it began a period of rapid development. Dr. Hill has received numerous honors and awards on behalf of the University. Perhaps his greatest accomplishment has been to provide for students and faculty many opportunities through the establishment of major new programs at the School of Medicine. His leadership has impacted medical education at the state, national, and international levels.