Rachel Z. Booth, PhD*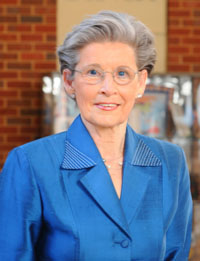 Rachel Booth, internationally recognized nursing educator, served as the Dean of the University of Alabama School of Nursing from 1987 – 2005. During that time she also served as the director of the World Health Organization's Collaborating Center for International Nursing. Under her leadership, the School of Nursing established the only PH.D. in nursing program in Alabama. Dr. Booth's career has spanned more than five decades and she has made numerous contributions in nursing in several states as well as throughout the world.
She was elected President of the Southern Council for Collegiate Education in Nursing for two terms and has held numerous leadership positions within the American Association of Colleges of Nursing. Dr. Booth is an outstanding nursing leader and dean who has brought distinction to Alabama, while expanding Alabama's national and global impact in nursing and health care. Her leadership in our state grew out of her extensive knowledge and competence in nursing and her steadfast commitment to academic excellence.