Mary Florence Woody, MA, RN*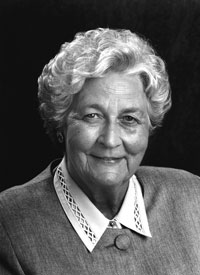 A native of LaFayette, Alabama, Mary Florence Woody was honored as a "Living Legend" by the American Academy of Nursing in 1997. The profession's highest honor is presented annually to the most stellar fellows of the Academy. Ms. Woody's career in nursing spanned more than forty-five years as staff nurse, hospital administrator, and educator. She came to Auburn in 1979 as professor of nursing and founding Dean of Auburn University's School of Nursing. During her five year tenure Ms. Woody developed a practice oriented baccalaureate program that quickly received national accreditation and put the school on a firm foundation.
She then moved to Emory University and Emory University Hospital in Atlanta, where she served as an inspiring nurse educator and a dynamic innovator of patient care. Ms. Woody's compassion for her fellow human beings; her dedication to teaching the future nursing professionals of America; and her dynamic influence as a leader, scholar, and healthcare provider have brought great honor to the states of Alabama and Georgia.