Joseph F. Volker, DDS, PhD*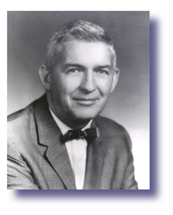 A native of Elizabeth, New Jersey, Dr. Volker earned a D.D.S. degree from Indiana University and a M.S. and Ph.D. in biochemistry from the University of Rochester. There, he conducted groundbreaking studies on the use of fluorides in the prevention of dental caries. From Rochester, Dr. Volker accepted an appointment with Tufts College Dental School and by 1945 was dean. In 1948 he came to Birmingham as the first dean of The University of Alabama School of Dentistry. During the 1950's and 1960's, Dr. Volker acquired additional responsibilities at The University of Alabama Medical Center, first as Director of Research and Graduate Studies and Vice-President for Health Affairs.
He was instrumental in the development of the University of Alabama in Birmingham and became its first president in 1969. In 1976 he became the first chancellor of the three-campus University of Alabama Health System, a post he held until 1982. From then until his death in 1989 he served as a distinguished professor of UAB. A renowned researcher, educator, and administrator, he received the 1966 Distinguished Faculty Lectureship at the Medical Center.