John Palmer Beasley, RPh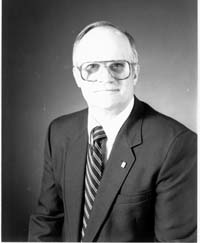 John Beasley has, through his work and accomplishments, brought honor to the field of healthcare, specifically the field of pharmacy. Born in Dothan, he now lives in Columbia, Alabama. During his extended career, Mr. Beasley opened and operated three pharmacy companies. For his devoted service as a pharmacist he was awarded the Alabama Pharmacy Association's Bowl of Hygeia in 1973, and the Distinguished Pharmacy Alumni Award in 1982. Mr. Beasley further served his profession as president of the Alabama Pharmaceutical Association and president of the Alabama State Board of Pharmacy. He also served his local community as a Chamber Director and president of the Lions Club.
Mr. Beasley became widely known as an influential advocate for healthcare and was elected to the Alabama House of Representatives in 1984. He went on to serve three terms in the legislature, serving as chairman of the Business & Labor Committee and member of the Legislative Council and State Democratic Executive Committee.