James Irving (Jim) Harrison, Jr.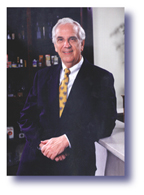 Jim Harrison founded Harco Drug Stores, Inc., an extensive regional company with 150 full-service pharmacies in Alabama, Florida, and Mississippi. The Harco Drug Stores were sold in 1997 to the RiteAid Corporation of Harrisburg, Pennsylvania. Mr. Harrison attended the University of Alabama and was a 1955 pharmacy honors graduate of Howard College (now Samford University). Prior to becoming involved in store management and expansion, Mr. Harrison spent twelve years as an active pharmacist. He has served as a director, president, and chairman of the board of the National Association of Chain Drug Stores. He was named Chain Drug Retailer of the Eighties and the Harco Drug Stores were twice voted the nation's number one drug store chain. The Anti-Defamation League has recognized Jim Harrison three times with awards for humanitarianism.
In 1998 Mr. Harrison received the Distinguished Service Award from the Alabama Pharmacy Association. He was also recently honored by the National Association of Chain Drug Stores with The Sheldon W. Fantle Achievement Award. Mr. Harrison's example of community and business leadership is an inspiration to his many friends and associates.