James A. Pittman, Jr., MD*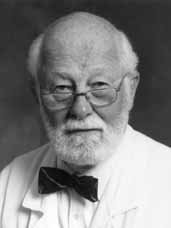 Dr. James Pittman's contributions to the field of medicine, including research and education, have had immeasurable impact on the healthcare of citizens in Alabama. Dr. Pittman received an M.D. from Harvard University and later came to Birmingham where he served as Chief Resident in UAB's Department of Medicine. He later served as director of the Division of Endocrinology and Metabolism as well as co-chairman of the Department of Medicine.
Dr. Pittman was appointed Dean of the School of Medicine at the University of Alabama at Birmingham in 1973 and served an unprecedented 19 years in that position. Under his direction, the school earned national recognition as an institution with superior faculty members and training facilities. Dr. Pittman's winning personality, integrity, sharp intellect, and unselfish nature are traits which have endeared him to his colleagues and students. A biographer of Tinsley Harrison, M.D., he was also named a Distinguished Alumnus by the Alabama Medical Alumni Association, and Distinguished Professor by UAB.