James Monroe Mason III, MD*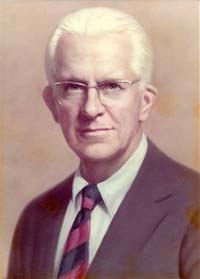 Dr. James Monroe Mason III, born in 1907, became known by his peers as a surgery leader for his superior judgment, skillful techniques, tireless devotion to patients, and unlimited energy. He was known for his warm personality, citizenship, and an unsurpassed sense of humor. His exceptional education and medical training equipped him for an extraordinary career. He attended the University of Virginia and Princeton University followed by medical school and 8 years of postgraduate training at Johns Hopkins University. He was the renowned Dr. Alfred Blaylock's first resident and trained in several surgical specialties. Subsequently he became a member of a notable U.S. 5th Army surgery team in the WWII invasions of Sicily, Salerno, and Anzio and was highly decorated (6 battle stars, Bronze Star, Legion of Merit). On returning to his native Birmingham, he became a member of the staffs at St. Vincent's, Children's, and Jefferson-Hillman Hospitals.
His career included Chief of Surgery at St. Vincent's, Professor of Surgery at the Medical College of Alabama, and Chief Surgeon and Medical Director of the Alabama Power Co., and active membership in many professional organizations. His honors were numerous. He was certified by the American Board of Surgery and the American Board of Thoracic Surgery. His numerous clinical reports appeared in regional and national publications and have created a lasting legacy for his surgical expertise.