Harriet Holt Cloud, MS, RDN, FAND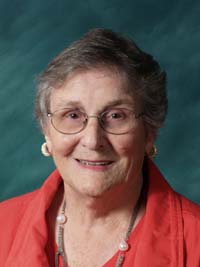 Harriet Holt Cloud has distinguished herself as a leader, educator and innovator in the field of nutrition and dietetics clinical practice and education. Following her degree in Dietetics in 1944, she completed an internship at Johns Hopkins in 1946 and returned to Alabama to begin a career as a Registered/Licensed Dietician that has spanned 6 decades. Ms. Cloud developed the practice of Clinical Nutrition in Alabama as an integral part of the medical care of patients. Her role in working with children with genetic disorders, inborn errors of metabolism and low birth weight infants lead to the creation of the Inherited Disorders of Metabolism Clinic at UAB/Children's Hospital. Ms. Cloud earned her Master's Degree at the University of Alabama and is a Fellow of the Academy for Nutrition and Dietetics. Ms. Cloud has received both the Distinguished Member Award (2007) and the "Marjorie Hulsipher Copher" Award (2004) from the American Academy of Nutrition and Dietetics.
Ms. Cloud is widely published and a sought after lecturer in the areas of nutritional needs of children with chronic disease and developmental disabilities. Ms. Cloud has held numerous positions in dietetic professional organizations both locally and nationally. Ms. Cloud currently serves as Professor Emeritus, Department of Nutrition Sciences, School of Health Related Professions and Sparks Clinic.